Diversified and constantly updated cutting-edge technology. These few words express the essence of our production, based on the use of differentiated machinery and always keeping pace with the new technologies. Torneria Pezzi strives to maintain a diversified and efficient machine fleet by purchasing the latest generation technology from historic national and international suppliers of machinery; the machines we order are often customized to our production in order to lend it particular efficiency and reliability. Software and sometimes even entire systems are developed and assembled internally, if not available on the market, to better meet our needs or to give shape to our ideas.
We are almost totally independent from suppliers for ordinary and extraordinary maintenance services; maintenance carefully planned by our qualified technicians ensures reliable processes. Our company has a warehouse for the main wear parts of our machines, to allow prompt resolution of any malfunction to the systems. Safe and punctual production with Torneria Pezzi!
Our machine fleet consists of:
Gildemeister AS20 multispindle automatic lathes

We use these machine tools to produce medium-high difficulty pieces. Maximum bar capacity of ø25 mm. These machines are equipped with collecting trays of our own design for the processing of aluminium and stainless steel;


Gildemeister CNC SPRINT 20-8 / SPEED 20-8 automatic lathes


These machines, suitable for the production of small, high-precision parts, are quick to program and competitive. Lathes suitable for the processing of all materials with ø25 mm maximum bar capacity. We also have one Gildemeister GD16 as well as one Gildemeister GD20.



Steinhäuser single-spindle automatic lathes


Traditional mechanical cam lathes suitable for the processing of materials with improved machinability. Ø 25 mm bar capacity. We realize special cycles and cams for each and every detail. Very competitive machines for items of medium geometric complexity.


Torno CNC EVODECO 32 automatic lathes

The latest generation of machines produced by Tornos with maximum bar capacity of ø32 mm. With 10 independent axles, it permits the machining of complex details even with materials having poor machinability.


ESCOMATIC D2 coil-fed automatic lathes

Lathes for the production of very small parts. Suited for processing materials with improved machinability and dimensions of less than ø4mm.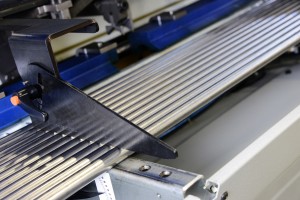 During production we use hydraulic units for the use of tools with internal forced cooling, oil-fed under pressure up to 100 bar. We process our components exclusively with whole oil to ensure the uniformly high quality of cleaning.


All our machines are assisted by automatic loaders and protected by fire-protection systems, our best insurance against fire damage. The whole company is also monitored with thermal imaging cameras to promptly detect any outbreak of fire.