The high quality of our finished products: always Torneria Pezzi's ultimate objective, since its very start.

We continuously strive to ensure:
Fast, punctual, detailed offers including indications on any design problems or concerns. Any uncertainties should be immediately reported.

Definite delivery dates, calculated with the modern software technologies we have implemented.

Control before acceptance of all certified raw materials to avoid problems during production and to verify the correctness of each certification.

Sampling done with the machine that will actually be used for producing the series, with Cpk stability analysis of all specifications and the related certificate. For each item, a control plan is also made available to our customers.

Statistical quality control methods are used to monitor the production processes and to certify our products. At this stage

... Read more

measuring instruments, certified and calibrated every six months, are used, as well as statistical analysis software for all design specifications. The production data and the relevant references to the raw material used are stored digitally and are at the complete disposal of our customers. Our software allows the quick identification of any alteration or deviation from specifications, making it possible to make adjustments to the machinery, before approaching tolerance limits.

Close
Complete traceability of the material, even during cleaning and surface treatments. With a complex labelling system, we keep every batch of material identified throughout production. We identify

... Read more

each box of final products with a code that allows us to reconstruct, even after a number of years, the history of the production of any specific item: raw material used with relevant certificate, production machine and measurements, cleaning or surface treatment vats with relevant certificates, packaging.

Close
All data is stored in the cloud to ensure the retention of information over the years and the prompt response to any problems related to our computer system.

Complete traceability of certified surface treatments performed at our suppliers' own facilities.<
/li>
Sample testing after cleaning/treatment to avoid the presence of residual shavings and/or poorly performed surface treatments.

Packaging with the computerized counting of pieces: thanks to the functions of verification and storage of weighing data we hold all information related to packaging; we continuously verify the accuracy of weighing, the type of packaging and the quantity per package.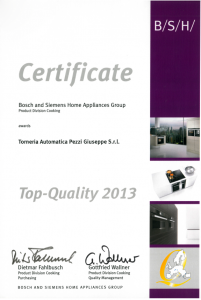 In addition, we always strive to ensure a prompt response to our errors; any system, as reliable as it may be, can generate errors. Torneria Pezzi ensures responsiveness and speed in the management of any non-compliance. We assume our responsibilities in relation to our mistakes and, above all, in these cases our priority is to make sure the customer can continue with production.

For years now, we have processed many items of our product range in free pass, attaining a maximum allowable difference of 50 ppm (parts per million).

Within 2017, we aim to achieve ISO/TS16949:2009 certification of our quality management system.